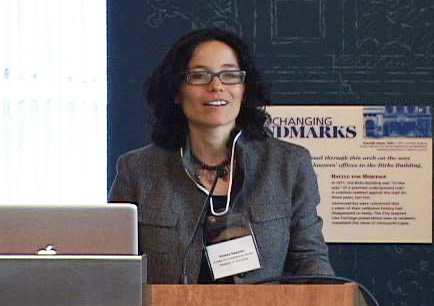 Interview by Cynthia Wallace-Casey,
PhD Candidate
University of New Brunswick (Fredericton)

Last spring, I had the opportunity to engage in a "virtual chat" with the curator of contemporary issues at the Museum of Vancouver, Viviane Gosselin.

 

Viviane is also author of chapter 12 in New Possibilities for the Past: Shaping History Education in Canada (2011).
During the interview, Viviane chats about her current curatorial project, "Sex Talk in the City", as well as the role of historical narratives in presenting alternative perspectives upon the present.

 

She provides great insight into the eclectic nature of museum work – rebounding between curatorial meetings, telephone conversations, conference presentations, and family commitments. Near the end of the interview, Viviane shifts her attention towards historical thinking in museums and writes of the necessity for "
porous
narratives" within museum exhibitions.
I began our e-mail conversation by discussing the THEN/HiER
"unconference"
that had just taken place at the Museum of Vancouver in conjunction with the America Education Research Association Conference:
We'll start by chatting about your busy schedule. How did the "unconference" go during the AERA Conference?
Good lord, 3 telephone conversations later – here I am . . .